From Congleton Wharf Moorings to Wheelock Visitor Moorings, a distance of 12 miles, 3½ flg and 27 locks.
Crew Swaps needed to be done at Old Broken Cross on Sunday so we knew that we only needed to be in Sandbach by the end of today – it's a bit of a walk from the canal but has several very good pubs and places to eat, so that was our target.

The oil leak we'd been experiencing seemed to be getting a little worse. We'd tried running with the oil cap loose in case it was a case of blow past the pistons pressurising the crank case and it blowing too much oil down the air intake. We'd even tried running with the air filter off to see if that made any difference. We didn't seem to be burning an excessive amount of oil and the two cam covers, which are notorious for leaking, didn't seem to be very bad at all. So that was something else we planned to look in when we got to Sandbach, knowing that we'd still have some day light left.
As with many of the mornings on this trip it was all rather nondescript weather wise and, like most of the other mornings, we seemed to be the only boat on the move as we made our way back to Hardings Wood Junction and our descent of the "Cheshire Locks".
A lot has changed on this stretch of canal since Our First Canal Holiday back in the late 1970s. Most of the locks on this section were duplicated, but back in 1979 a lot of them were out of action, now only a few are, but in some places the duplicate has been lost due to things like new bridges etc.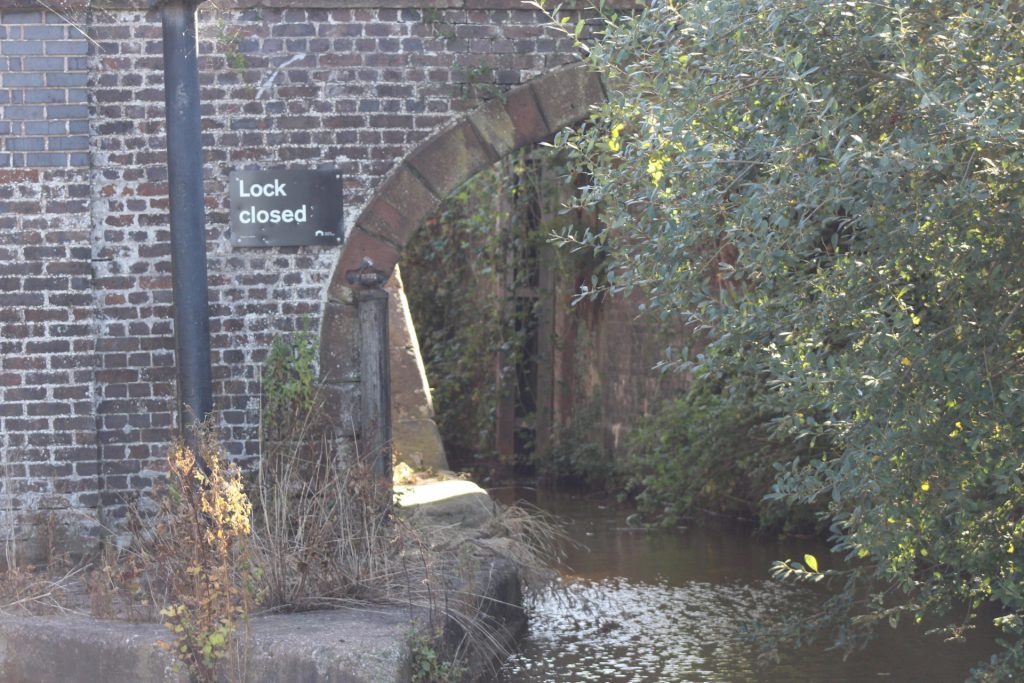 Some of the closed locks seem to be in quite good condition and you wonder why they've not been restored, whereas others are obviously beyond repair.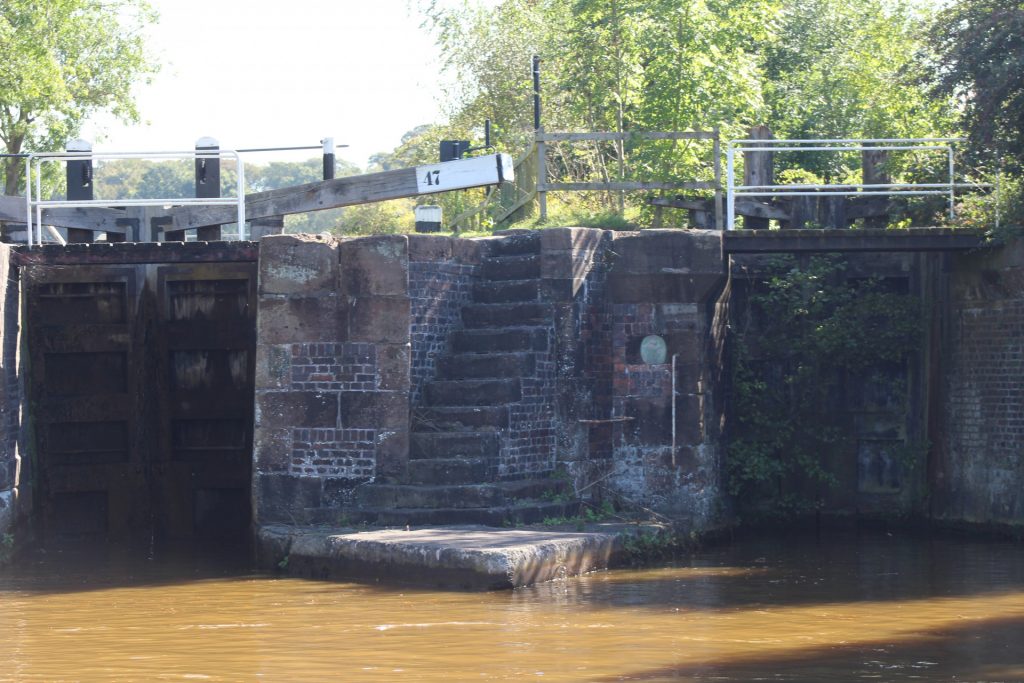 Back in the 1950's there were problems with subsidence due to salt mining which caused problems with many of the locks and at Upper Thurlwood Lock No 53 they came up with an interesting solution to the problem – a steel lock sitting in a concrete casement. It never really worked well and by 1979 it was closed off and out of use but apparently still intact (with just a few cog wheels missing). Here is an article about a hire boat using the lock in 1973, but it closed soon afterwards and in 1988 British Waterways took the irrational decision to cut it up and sell it off for scrap arguing that it "wasn't interesting enough" to save.
So now there is only one lock at Thurlwood and it was as we approached this lock that the oddest encounter of the day happened : as we came down the canal there was a boat getting ready to cast off and they held their ropes as we went past but then cast off immediately behind us and basically tailgated us down to Thurlwood. We pulled over to the towpath and dropped off crew but the other boat just floated around rather messily and then, for some reason, went over to the offside to wait. There were only two people on the boat and although they were on the offside bank one of the crew walked very slowly and very nervously down the left hand side gunwale to the front of the boat where they took the rope and gingerly and clumsily got off the front of the boat and onto the bank. All of the time carrying their windlass in one hand.
They completely blanked us and seemed to be struggling holding the boat against the offside – probably due to the fact that it's been nicely planted up as it's outside people's houses.
We worked through the lock and left them still standing there looking bemused and confused.
Apart from that the day was very quiet – there were very few boats on the move and hardly any people out walking their dogs.
We got to the Visitor moorings at Sandbach mid afternoon and went looking for the oil leak. We found it quite quickly by putting some more oil in and starting the engine and saw a slight oozing round the top of the oil pressure sensor and when we waggled the wire oil came out at a good speed.
So we had a good root round in our boxes of bits and found a bolt that was the same thread as the sensor and with a bit of thread sealant we soon had it blanked off.
So with that job done we headed into town for a few beers at various pubs and a great meal at Kan's Oriental Restaurant. The Purple Pakora could really learn some lessons from Kan's…. friendly staff, efficient service, good size portions and extremely good food.