From Martin's Bridge No 3 to England - Wales Border, a distance of 18 miles, 4¾ flg and 15 locks.
It was a little cool over night but we woke to clearish, sunny skies and headed off up the canal. We'd done some calculations based on the opening times at Frankton Locks and we had two options – push on a lot today and get there before noon on Monday or not push on and get there for opening time on Tuesday. As the second option seemed to be pretty much a waste of a day we decided that, barring hold ups at Grindley Brook, we'd go for a Monday morning passage. It would mean stopping out in the middle of nowhere overnight but with Covid and the fact that we had a lot of beer on the boat it wasn't really that much of an issue.
Start : Martin\'s Bridge No 3
Finish : England - Wales Border
Spey was moored up just before Ravensmoor Wharf Winding Hole and looked all locked up and secure so I guess they weren't planning on moving any more over the weekend. Burland Pipe Bridge no longer seems to exist – to the extent that there isn't even any sign of it at all. We got up the two Swanley locks with no problems but there was a bit of a tail back round Baddiley Lock No 7 due to faulty top paddle – which although it was a bit of a pain actually helped space the boats going upstream out a little. One of the boats coming down had managed to do something unpleasant to their rudder on Grindley Brook and were limping their way down to Swanley Bridge Marina
We exited Baddiley Lock No 9 with just one boat visible ahead of us and they were moving at a pace so we could move at a good speed without catching them up. When we got to Wrenbury Church Lift Bridge No 19 we found that they were stopping at Wrenbury for lunch (which they made in plenty of time) and so we went through Wrenbury Lift Bridge No 20 by ourselves. The boatyard was just about empty and we found out that every yard on the canal had almost all of their boats out on the canal.
We got to Willeymoor Lock No 12 and thought about stopping for a drink, but now we knew how many boats were out on the canal we decided to push on. Whilst we were waiting for the lock Nick popped in and got a takeout for later in the day.
Grindley Brook is notorious for delays but when we arrived at the bottom lock we didn't have to wait for very long at all. It was when we got into Grindley Brook Lock No 15 that the problems began. There were boats above the top lock waiting for the staircase and a boat sitting in the top lock and two boats waiting in the pound. We slipped in at the back of the queue and started the wait.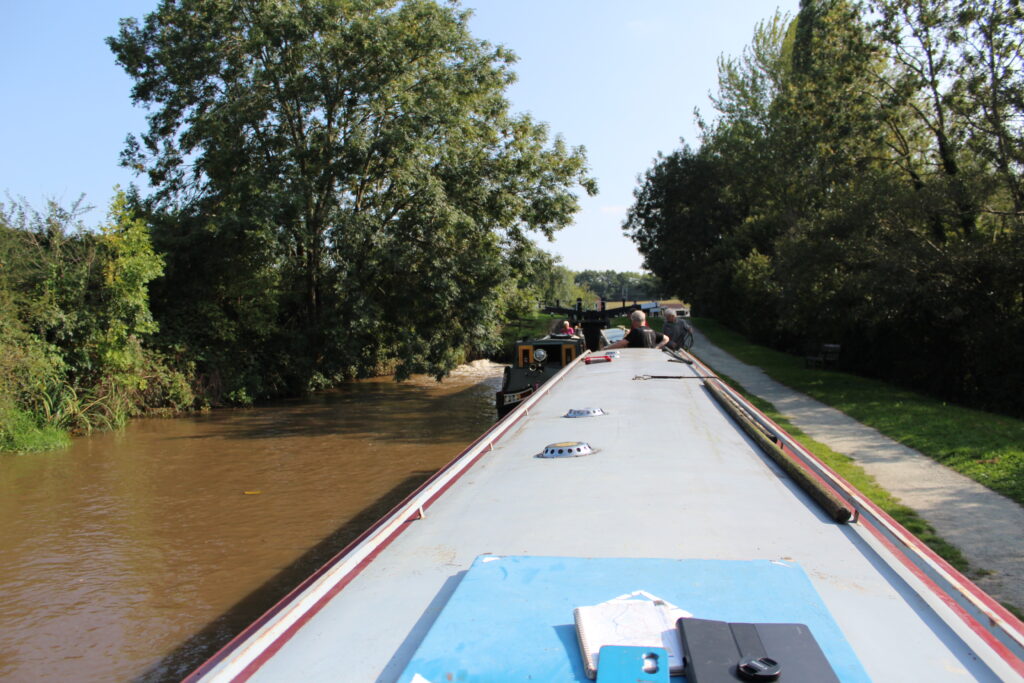 More boats came up behind us and things started getting a bit crowded.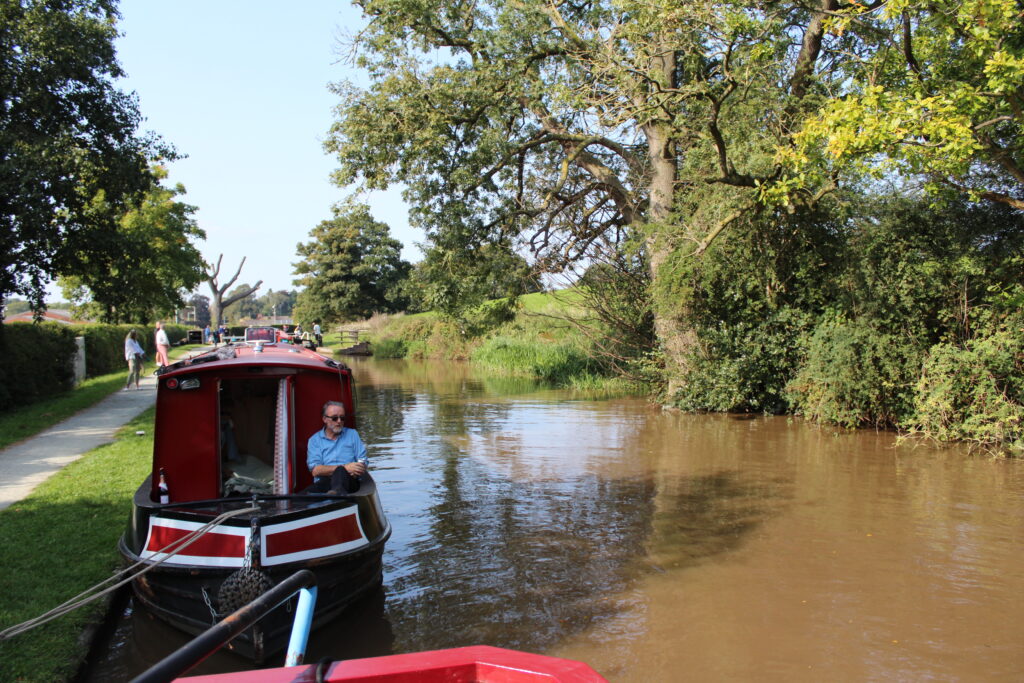 One of the boats coming down was a hireboat and they apologised that they were slow because their throttle wasn't working. There were various conversations about what the problem could be and I offered to have a look. A quick look under the deck revealed the problem – the nut holding the throttle cable bolt in place had dropped off and the cable had bounced out. I had a quick check in the bilge which was very clean – it was a very new boat – but couldn't see the nut. I showed them what the problem was and showed them how to reseat the cable and off they went. So that was my good deed for the day.
They were letting 4 boats up and 4 boats down the staircase which meant we didn't make the first group going up so we had to sit in the pound below the staircase and wait. It didn't help that one more boat came up through the top lock than really should have done which made it awkward for the boats coming down the staircase but we muddled through it.
The lockies on Grindley Brook Staircase Locks Nos 17 to 19 know their stuff and know how to work the locks as quickly as possible but we almost didn't make it into the middle of the three locks as there wasn't much water between us and the cill. But we made it without getting stuck and were soon out of the staircase and on our way.
We fairly flew along until New Mills Lift Bridge No 31 where we had to wait whilst two boats manoeuvred in and out of the Whitchurch arm. There was an amazing smell of cooking coming from a boat moored on the Whitchurch Offside Visitor Moorings and I told them that when they stuck their heads out to see what was going on.
All the Viking Afloat boats at Whitchurch Marina were out but there seemed to be quite a few people busy in the yard tidying things up. We played leap frog with another boat through the two Hassell's swing bridges and Tilstock Park Lift Bridge No 42. They were a little on the slow side but we ended up in front after the last lift bridge as we headed down the long run to Morris Lift Bridge No 45 and by the time we got their they were a little spot in the distance so we didn't hold the bridge for them. We headed through Whixall Moss Junction and moored up just past the Moss visitor moorings for the night.