From Tibberton Visitor Moorings to Netherwich Basin, a distance of 15 miles, 4¼ flg and 25 locks.
After a few nice cool misty mornings we woke up to a damp miserable one but luckily the rain had just about stopped after being quite heavy over night.
The pound, which was several inches down when we'd come on to it, hadn't dropped any more but it also hadn't gone up by much and so we were a little worried that somewhere ahead of us there was going to be another pound that was down.
When we got to Tibberton Top Lock No 16 there were some CaRT vehicles but no notices about the flight being closed or there being problems ahead and so we started off on the descent down to Worcester. A couple of locks down someone who was cycling down the towpath told us that the canal was closed as there was no water- however we continued on down the flight and although some of the pounds were down a few inches there were no pounds that looked that low. Even the longish pound down to Blockhouse Lock No 4 seemed OK so we're not sure where the problem had been.
We shared Diglis Lock No 2 with a boat which the boat yard were moving around and it didn't come through the next lock with us. For some reason Diglis Bottom Lock No 1, which is a very large lock, has no top gate paddles and it's a complete pain to work. The bottom gates aren't much better and if you're heading upstream then the location of the lock landing stage which is downstream of the lock is an annoyance too, but at least you don't need to work the swingbridge under normal river conditions.
We headed up river and stopped on the visitor moorings between Worcester Railway Bridge and Sabrina Footbridge – you have to pay but its a pretty cheap flat rate for 24 hours and you simply buy a ticket from a pay and display machine located in the park above the moorings. We had a longish stop as this was the point at which we changed half our crew but once we'd got the new crew we headed off up river again.
The moorings for Bevere Lock can apparently be used for overnight moorings after 6pm as long as you have cleared it with the lock keeper and I assume you moor there if you want to go to the Camp House Pub as its own moorings seem to have vanished. Exiting the lock you are advised to keep left to avoid the weir and the shallows between it and the large marker posts. Swinging round the corner Hawford Junction quickly comes into view.
Above Hawford Lock No 2 the large length of moorings that CaRT were working on the day before had come on quite a lot and they're probably finished by now.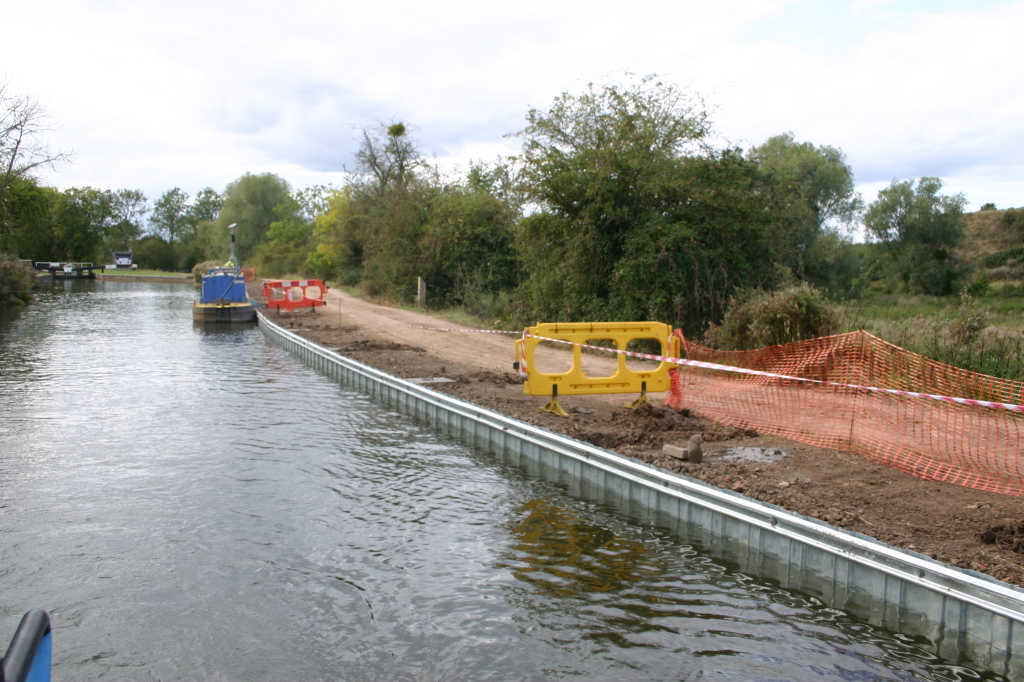 It was a bit odd doing the same canal again so soon again but the different time of day made things look quite different and we spent an enjoyable afternoon working our way up the canal and there were as many people out and about using the towpath as there had been the other day. We shared the locks with a hire boat who had come down the canal a couple of days earlier and had been up to Stourport. As you approach Droitwich there seemed to be quite a few joggers and runners using the canal and the low level of graffiti and vandalism is quite refreshing and although Netherwich Basin has security gates I suspect that they're not really needed (unless its different at other times of the year). We moored stern in on the pontoon moorings as we didn't fancy having to walk out along the gunwales in the dark, and for Mintball the mooring actually worked better that way than nose in.
Vines Park which runs alongside the canal is very well kept and very popular and despite the day cooling off rapidly there were quite a few people around. We ate at The Old Cock Inn which does some good beer and some excellent food – as long as you like pies.. .but they are Pieminister pies and they had a good range and we can heartily recommend them. We stuck our head in at The Hope Pole but didn't stay long as by now it was getting quite cold and they didn't seem to think they needed any heating.. you really shouldn't need to wear your coat in a pub in order to keep warm. After that we walked back towards the boat and stuck our head in at The Gardeners Arms for a pint or two – there was a quiz on and the place was crowed but it was a good atmosphere. The pub has a large terrace and probably one of the longest domain names we've ever seen.