[From Willow Green Bridge No 208 to Grocer's Wharf, a distance of 27 miles, 4½ flg and 1 lock.
It rained over night – that wasn't something that they'd forecast, or if they had we had missed it – but by the time we got up the rain had cleared and things were starting to dry off. It was pretty overcast with some heavy looking clouds that kept the threat of rain all too prominent.
We had a bit of a wait at Preston Brook Tunnel (South end) as we missed the 10 minute slot that northbound traffic gets and it was quite annoying to sit there waiting when you could see right through to the other end of the tunnel and see that there was no-one in it.
I seem to remember the tunnel being wetter than it was – but I'm not sure if that is just me getting tunnels mixed up (well they do all tend to look the same in many ways) or if the drainage has changed.
Exiting the tunnel we went past the "Welcome" notice from Peel Holdings – not so much as a welcome to the Bridgewater canal, more a reminder that they unilaterally changed the reciprocal licensing agreement and that all C&RT boaters will have to buy short term licences if they have the audacity to try to use the canal for any length of time at all (basically up to 7 days but if you leave and come back then that counts as a second visit in 28 days and so they want your money)
Daresbury always struck me as an odd place to put a Nuclear Research facility, but there you go, and although the tower no longer contains the huge Van de Graff Generator they've retained the structure which I think is great… although I'm not sure what Lewis Caroll would have thought of it all.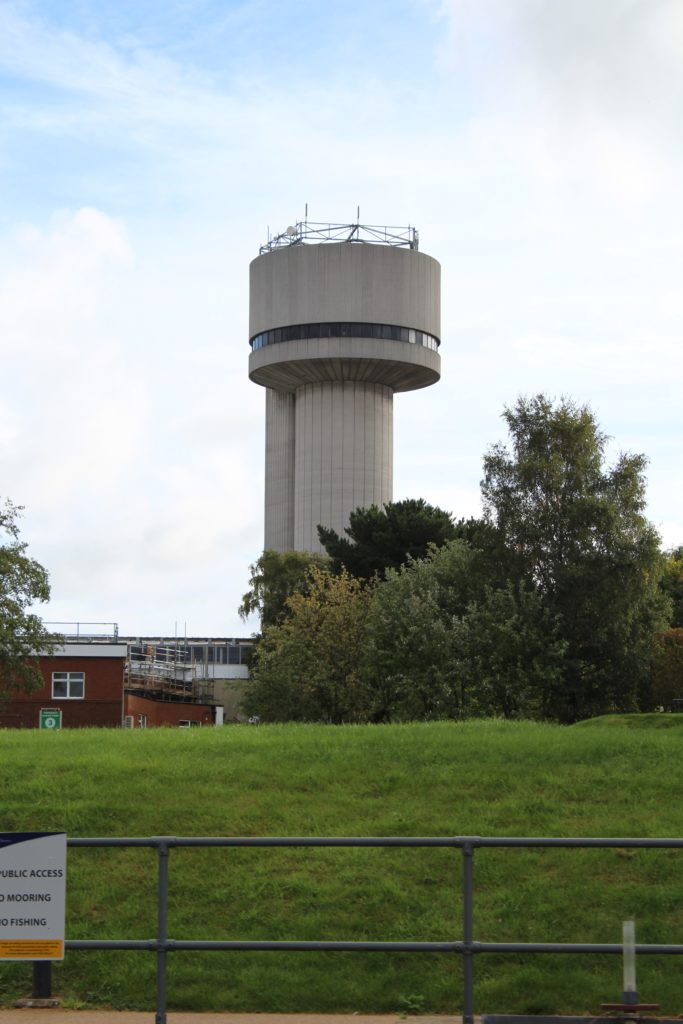 Considering the original purpose of the Bridgewater canal it spends a lot of its time wandering through the countryside on a moderately winding course, skirting round the edge of most places until you get to Lymm where the village sits right by the canal. It's a very pretty little village with an odd cross and its own mill pond.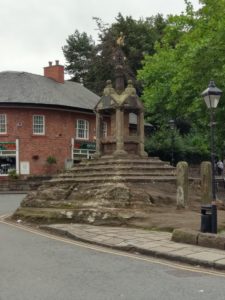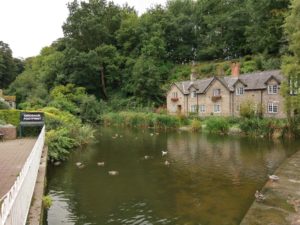 It also has a very good pub – the Brewery Tap which is home to the Lymm Brewing Company. It's right by the canal on the offside visitor moorings and just round the corner from the bakery which does good sausage rolls and a very impressive range of cheeses.
Somehow we seemed to lose track of time a bit and so we were a little later leaving Lymm than we planned. However one thing you can say about the Bridgewater canal and that is that it's deep so you can make good progress along it – which you need as the length through Sale is extremely straight and boring.
We decided to detour into Manchester city centre – its been quite some time since I was last there and things have changed a lot. It used to be full of industrial dereliction and vandalism… now its full of converted warehouses and new blocks of flats… and vandalism.
We moored for the night near the Grocer's warehouse – diagonally opposite where Mintball was moored for the duration of the IWA National Rally in 1988… and its sort of good think that maybe that rally kicked off some of the regeneration that has taken place since then.