From Tom's Moorings to Wheaton Aston Visitor Moorings (north), a distance of 18 miles, 5½ flg and 5 locks.
For family reasons we didn't make it up to the boat on Friday night so we had an early start on Saturday morning (I do so love my alarm going off at 6:30am on a weekend).
Crew were collected from their homes and we made very good time up to the moorings. We'd done the food shop the night before so we just unloaded everything onto the boat knowing we could unpack and put stuff away later. We cast off just before 09:30
We got to Tyrley Bottom Lock No 7 which was empty (We'd passed a boat at Berisford Road Aqueduct ) and the overflows weren't running too viciously – which is always a good thing.
Even though this is our regular time for our September trip the locks didnt look quite as Autumnal as they often do.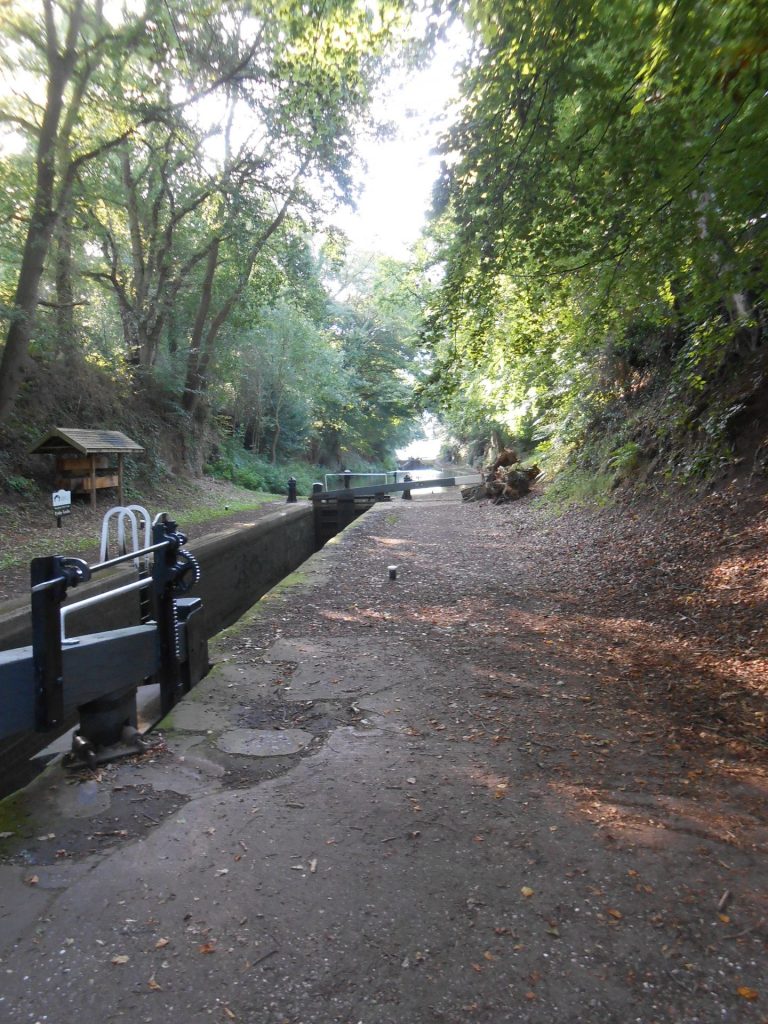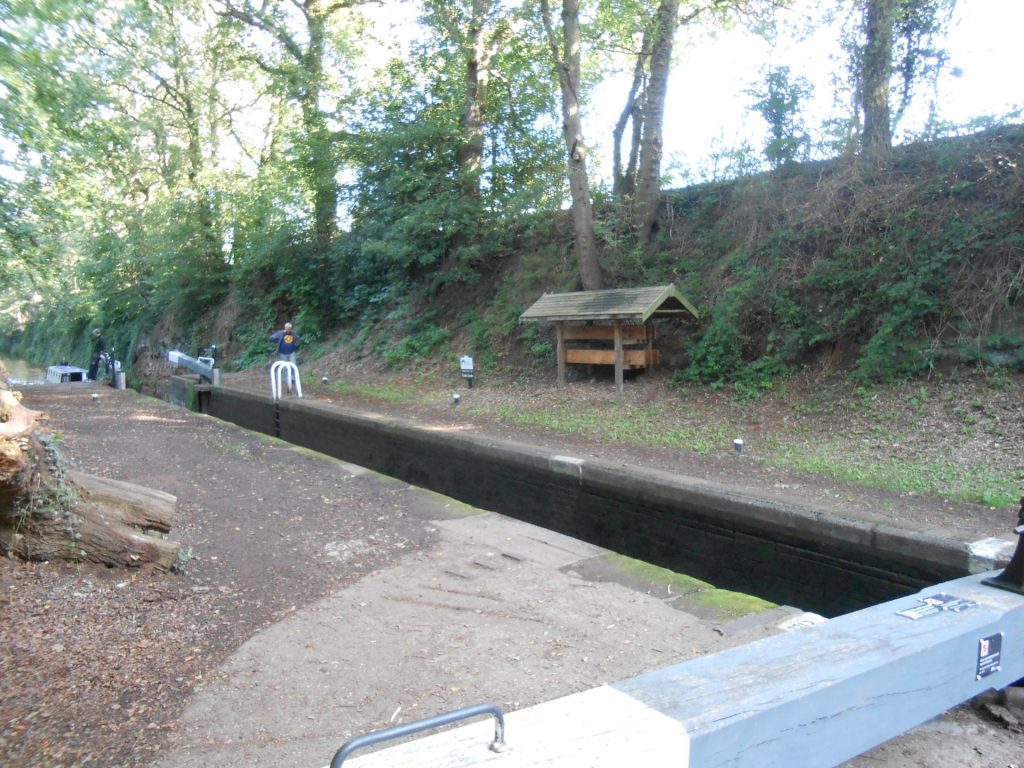 Luckily the second lock was empty too with no boat coming through which meant that it was an easy run through the rock ledge pound and into the lock – even though both the overflows were running quite strongly.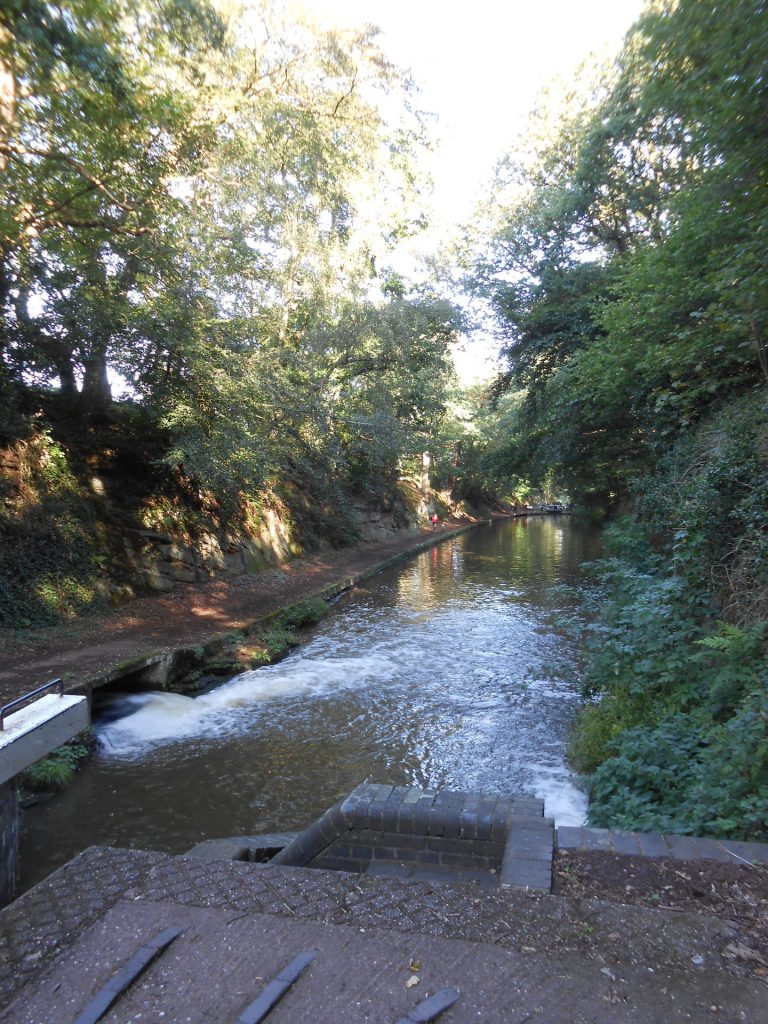 There was a boat coming down the next lock so we waited for a couple of minutes – but it was a very pleasant day so we didn't mind sitting round.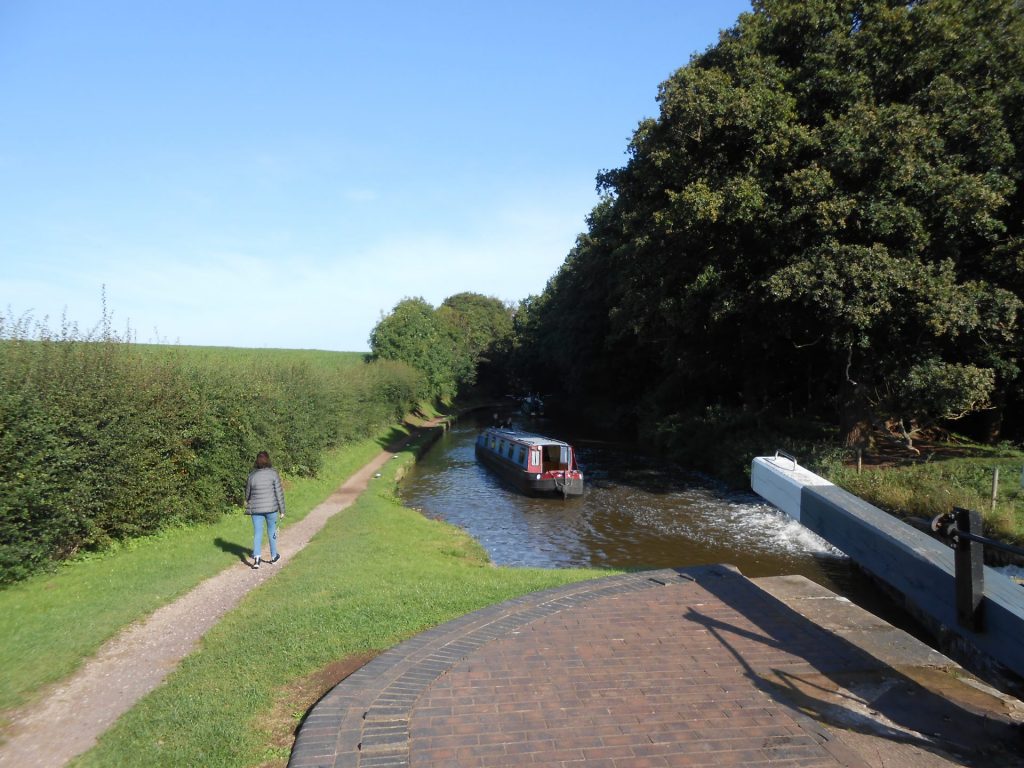 We passed another boat below the top lock and exited the locks about an hour after we'd cast off.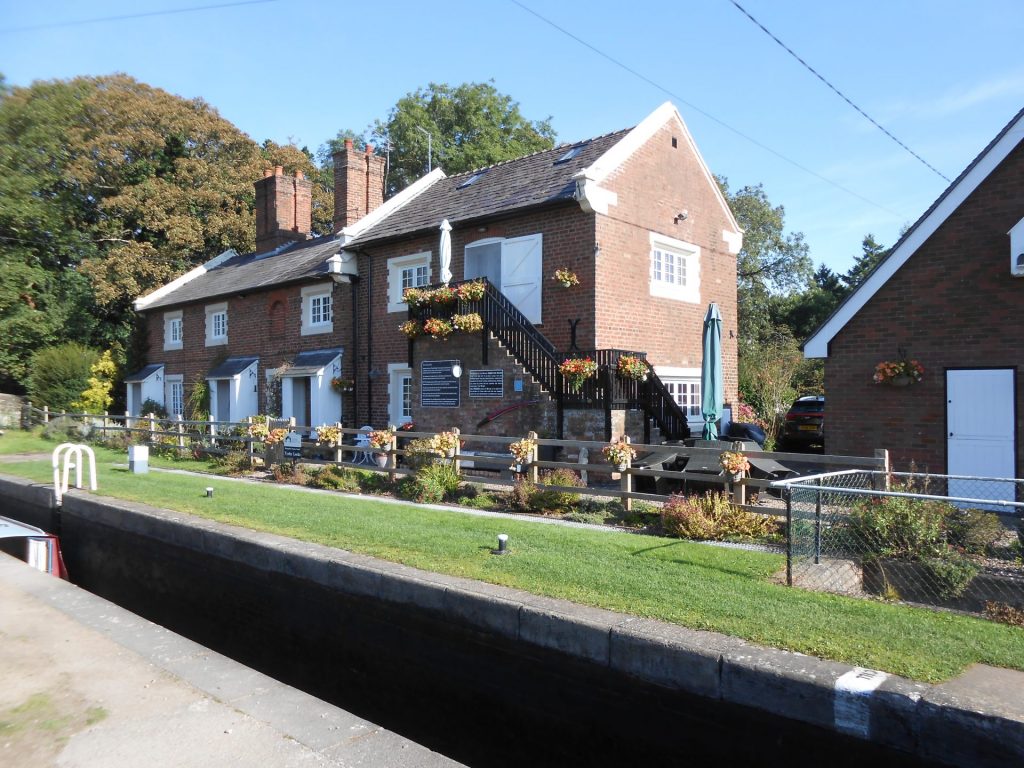 Woodseaves Cutting is usually quite quiet but we were following one boat and met 4 coming towards us. The canals in September are usually quite quiet so this made quite a change.
We knew that there was a fishing match described as being "near Market Drayton" and we found it … it started at Goldstone Wharf… fishmen, dour, unpleasant fishermen as far as the eye could see. There were obviously annoyed by the number of boats, but if you fish on canals then you just have to expect it.
Progress was slow and when we got to Black Flat Bridge No 47 we moored up and took the track across the fields to The Haberdashers Arms – an oddly named pub for its location but well worth a visit.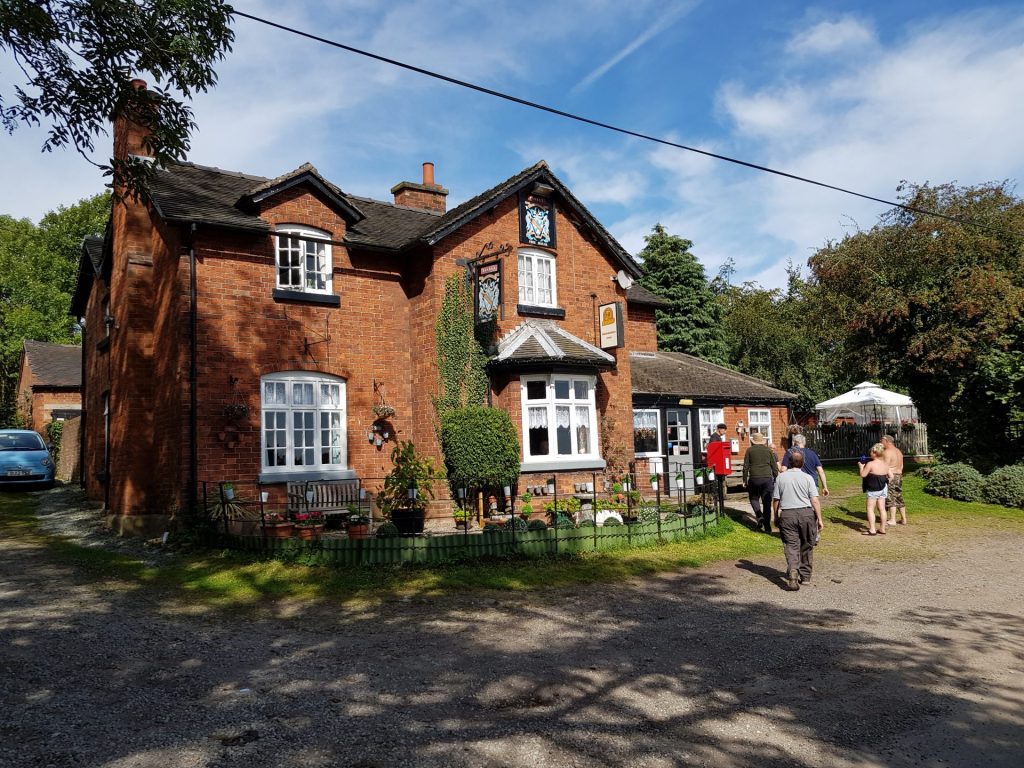 We sat out in the garden and had a couple of pints in the sunshine.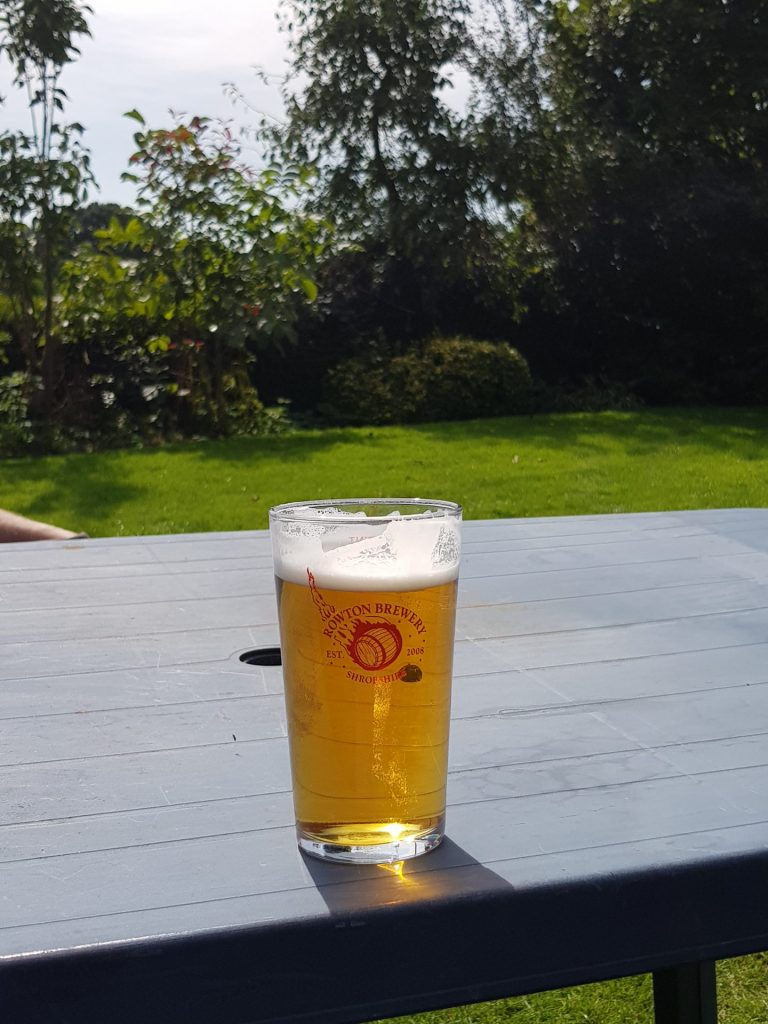 There was a biker's meeting at the campsite behind the pub and so there were quite a lot of big bikes (and big bikers) around. We were just about to leave when we heard a very distinct airplane engine noise and looked up and saw this.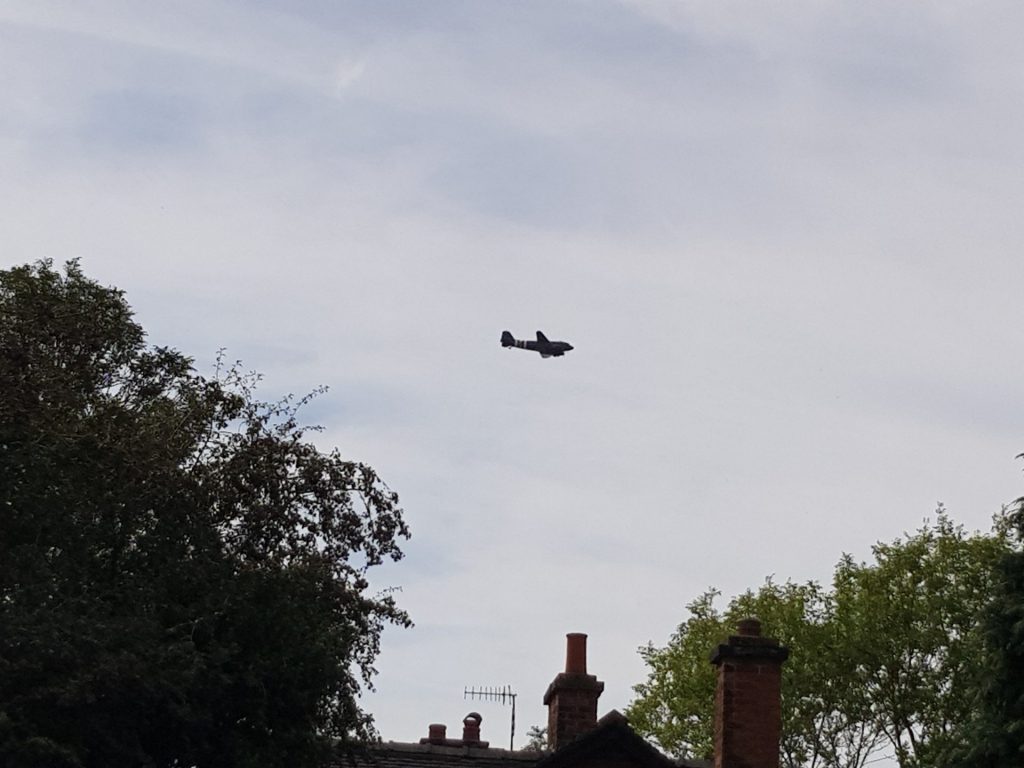 >
We walked back to the boat and cast off and carried on past the fishermen – the match eventually finished near Anchor Bridge No 42 – which is about 5 miles from Goldstone.
We pulled in at Norbury Wharf Boatyard and picked up 100 litres of fuel and got the loo pumped out. We decided not to stop for a beer at the pub as it was getting a little late.
There seemed to be a very loud "pub singer" at The Navigation Inn (Gnosall) – a very loud singer, so we decided not to stop and made our way slowly through the village as we had a family of canoes ahead of us.
We passed one more moving boat just before the tunnel and then we basically had the canal all to ourselves as we chugged across the Shropshire countryside as the sun went down. The sunset as we went along the long straight into Wheaton Aston was very impressive but then it went quickly dark and by the time we pulled into the end of the visitor moorings we just about needed torches to see what we were doing.
After eating on board we walked up to the Coach and Horses for a few beers.