From Hoolgrave Bridge No 11 to Wheelock Visitor Moorings, a distance of 12 miles, 2 flg and 9 locks.
It was slightly later than planned when everyone woke up – I guess the fresh air, exercise and beer really did its stuff.  It was a bit damp when we opened the doors and got the engine started and we waited for a couple of minutes before casting off to allow a couple of boats to go past and get a little ahead of us.
We were passing Church Minshull Visitor Moorings when a boat came up behind us and the woman on the front desk shouted at us that they wanted to come past. We replied, quite civilly, that there were two boats in front of us and we were simply keeping pace with them. They got more and more insistent that we let them past so we slowed down and pulled over and told them that they had until the next moored boat to get past us.
The man at the tiller speeded up to such a speed that their boat sucked all the water out from under us which grounded the stern and started dragging the bow out into the main channel and their boat. At this point he basically exploded : "We all pay out licences fees.. you don't own the fucking canal, you shouldn't be going so fast"
He sped off dragging a breaking wash and we let him go.
When we got to Stanthorne Lock No 3  they were exactly where we knew they'd be and where we'd told them…. stuck behind the two boats that were ahead of us. The woman holding the boat just ignored us but we learned that they'd been boating continually for 8 years … you would have thought that they'd have learned that speeding on a canal gets you nowhere.
We had to queue to get through Wardle Lock No 4 but everyone else turned left to go down the locks so we were able to go straight into King's Lock No 71 … well I say straight in : there were boats double moored on the offside and a boat moored on the towpath between the lock and the junction so things were a little tight.
It was all quiet at Rumps Lock No 70 and we were just about through it when a boat turned up to come down, but by the time we got to Booth Lane Bottom Lock No 69 we were at the tail of a queue of about 5 boats, many of which only had a couple of crew on them. We decided to put our crew onto the bottom lock and the middle lock to help work the queue through, which was much appreciated by several of the boats.
The pound above Booth Lane Middle Lock No 68 was down by several inches – apparently one of the two boats which had been causing the queue had left the paddles open at both ends, but there was enough water to get up to Booth Lane Top Lock No 67 were it was good to be able to shelter under the large trees that overhang the lock.
The pound above the lock was down a little which considering its a three mile and a bit pound was a little worrying but we made pretty good time to The Cheshire Cheese PH. We went past the pub, through Wheelock Bottom Lock No 66 , turned at Wheelock Winding Hole  and back through the lock before returning to the visitor moorings for the night.
It's about 1.2 miles from the canal to Sandbach and we thought we might have a drink in the Cheshire Cheese before heading up the hill into town but it was being refurbished so we couldn't.
It's not a bad walk to Sandbach but it was extremely warm and humid so it was a little unpleasant. However it was worth it as Sandbach is a very nice little town and its market square is extremely impressive.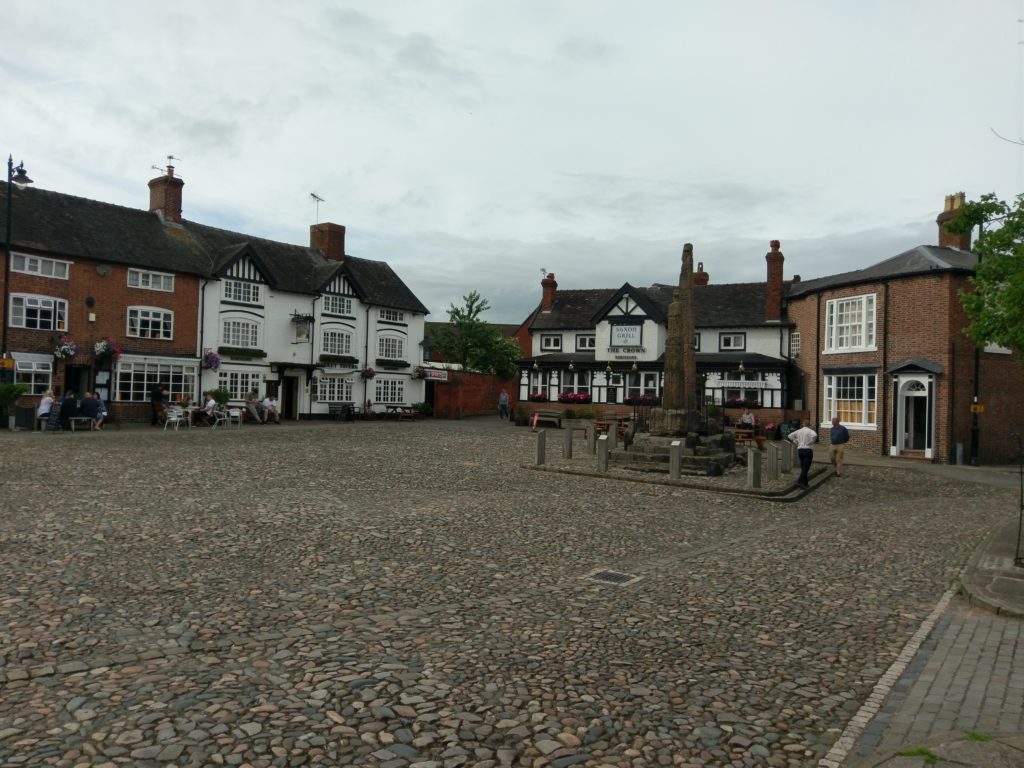 The two crosses were destroyed several hundred years ago but were reconstructed and although they would have originally been brightly painted they are still quite impressive and something you'd more associate with Ireland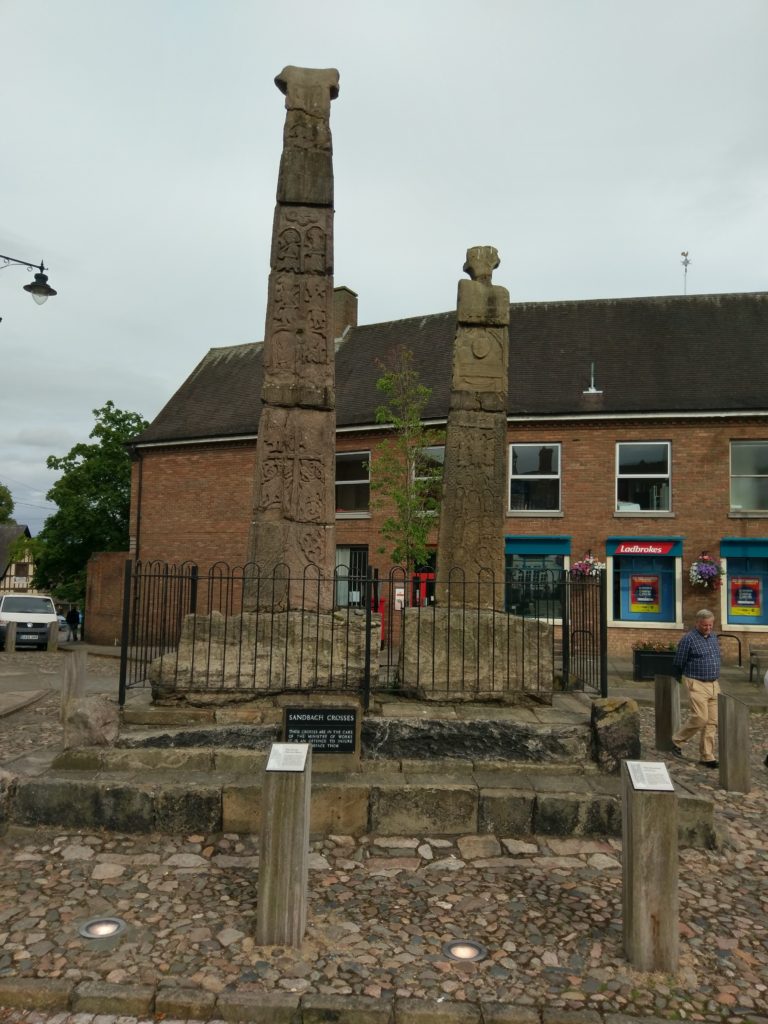 One of the pubs we really wanted to visit was The Old Hall which dates from about 1650 and has to be one of the most impressive pubs we've ever drunk in: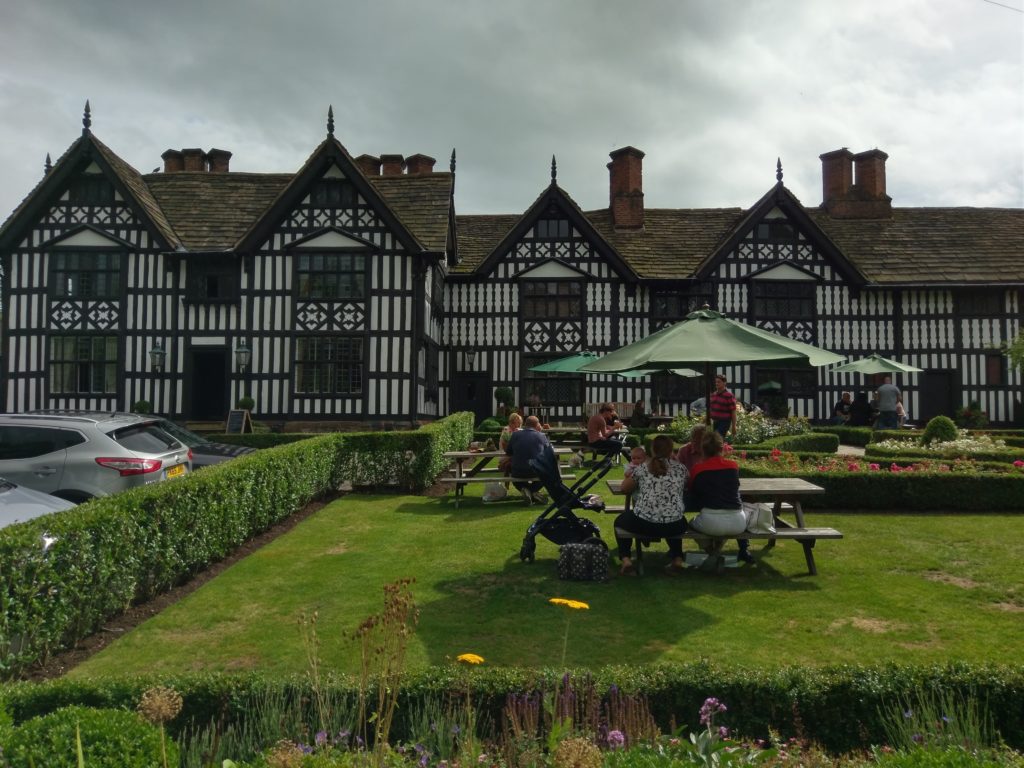 They have 6 real ales – three regulars and three guests, and all the ones we tried (in the two visits we made) were in very good form.
We also visited some of the pubs round the market square and also The Beer Emporium which is a shop that sells an impressive range of bottled beers and also has several on draught. We had a good meal at the Eastern Spice which isn't licensed but you can bring your own alcohol.
So all in all a great place to visit and one we plan on visiting again now we've finally made it after all these years.
We walked back to the boat but there is a bus that runs from Sandbach and down to the canal on its way to Crewe (the 38 service with the last bus leaving from On the Common at just past midnight) which is worth knowing about.