From Shardlow to Ordish Bridge No 33E, a distance of 16 miles, 6¼ flg and 6 locks.
If you want a nice lie in at Shardlow then don't moor on the visitor moorings by the boat yard. At 8am sharp they take some large hammers and hit some sheets of steel for about 20 minutes and then cut them into bits with angle grinders. Then at 08:40 they stop and have breakfast, or something!
So the idea of a bit of a lie in had gone out of the window so we decided to head off. The lower section of the Trent and Mersey in many way feels like a totally different canal to the rest. It's not only that it's a broad canal rather than narrow – the engineering just seems to be on a larger scale. The broad locks are deep, and they seem to be more than 72 foot long too (unless that's just an optical illusion) and for a single boat with just 2 crew members they are hard work.
Between Barrow Bridge No 16 and Deepdale Bridge No 17 the road comes alongside the canal, and it is extremely close with no crash barrier. So to make it safer they've added some useful road signs.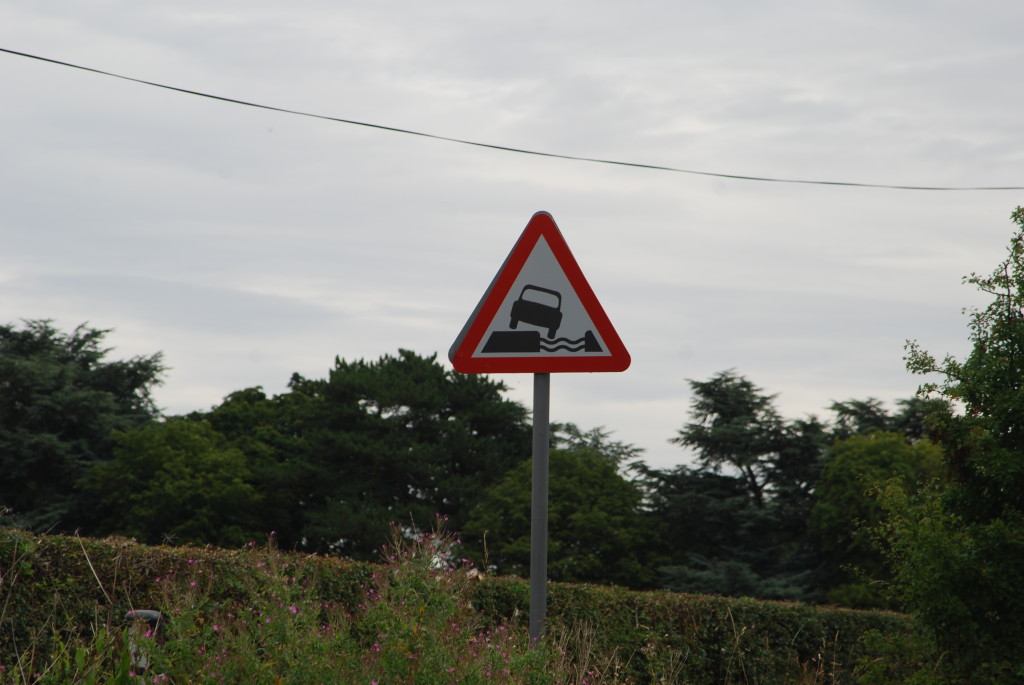 The big locks are bad enough at the best of times but Stenson Lock No 6 in the torrential rain is not something I could ever recommend to anyone, and of course it takes forever to fill as its so deep and you can't wind the paddles up too far as they're pretty rough, and there is nowhere to hide from the rain. Having people sitting in the pub taking photos of you on their mobile phone (I assume so they can send it to their friends making comments about mad people) really doesn't make the fact that you are soaked through to the skin any less unpleasant, although it doesn't make it much worse.
Then suddenly at Dallow Lane Lock No 7 everything changes and the canal is all narrow and the locks are pretty shallow – so shallow in fact that rather than use the rather narrow walkways on the bottom gates it's easier just to walk over the roof of the boat.
Burton has changed a lot since we first came through – I remember having our ropes untied when we moored here once but now the houses seem to "like" the canal and there are some great moorings at Shobnall Fields Visitor Moorings
We'd checked the fuel back at Sawley lock, and had decided not to use the 24 hour self service pump at the marina as the base cost sounded rather too high. But we knew we needed some just to make sure we didn't get down to the bottom of the tank before we got home. So we decided to call in at Shobnall Basin and pick some up. Now its a bit of a pain getting the boat under the entrance bridge but then to find that the fuel pump has a short line and there is a bridge blocking your way which implies the only way to actually get fuel is to back in… well frankly NO – we needed fuel but not that much.
We backed out and continued on our way before stopping just outside of Burton. There are some pretty good moorings either side of the A38 bridge – the ones before it have fixed rings and the ones after are a bit further way from the road and sheltered by bushes and trees, but both sets have a good piled edge and seem to be well dredged.