From Cromwell Lock Weir Entrance to Holme Lock Weir Entrance, a distance of 26 miles, ½ flg and 6 locks.
We set off planning to get to Nether Lock No 10 by about 9:30 when the lock keeper should be on duty but we got there a few minutes early and Kathy was just about to get the lock ready when he turned up so I used the centre line and stood on the roof as we came up the lock.
It's very obvious when you come out of the lock that the current lock is not the original and you can see part of the original gate recess just where you have to do a sharp turn to get under the small access bridge.
As usual there seemed to be boats moving round at Newark with no real purpose – apart from confusing people and once again it was proved that a lot of boaters either can't read or just ignore notices as the moorings opposite Newark Castle are clearly marked "Fishing Prohibited" but I guess people on boats think that it doesn't apply to them as there were at least 3 people fishing from the back decks of their boats.
Just above Newark Town Lock Weir Entrance os the old British Waterways Maintenance yard and on the hard standing there is the Newark barge project.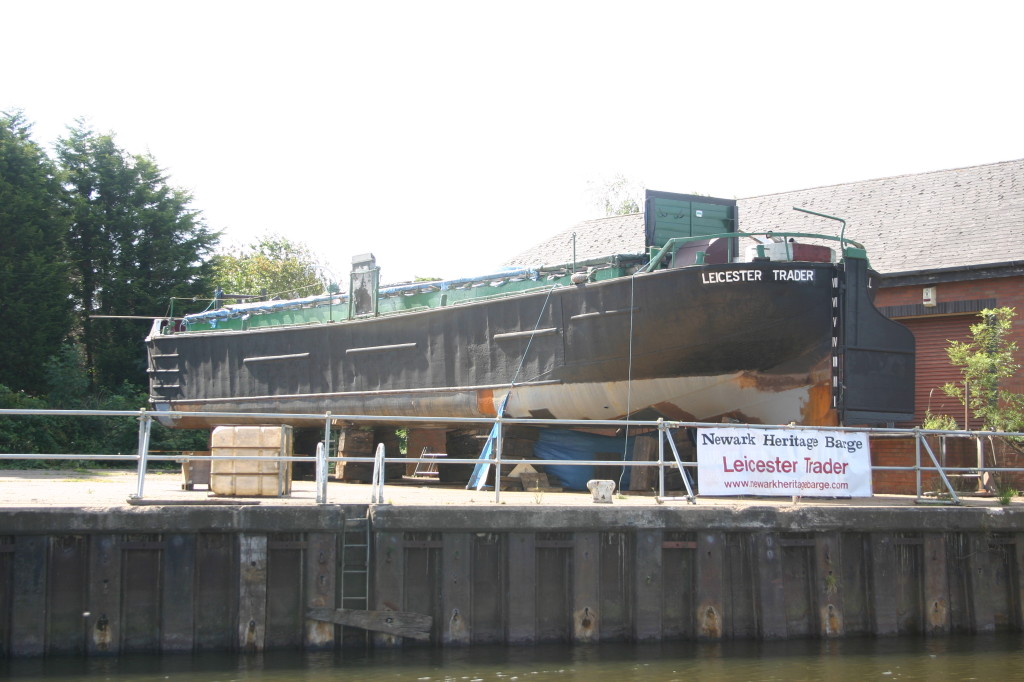 Averham Weir is rather daunting and although it is well signed and marked it does look like it could be so easy to accidentally go over it if you got distracted by anything.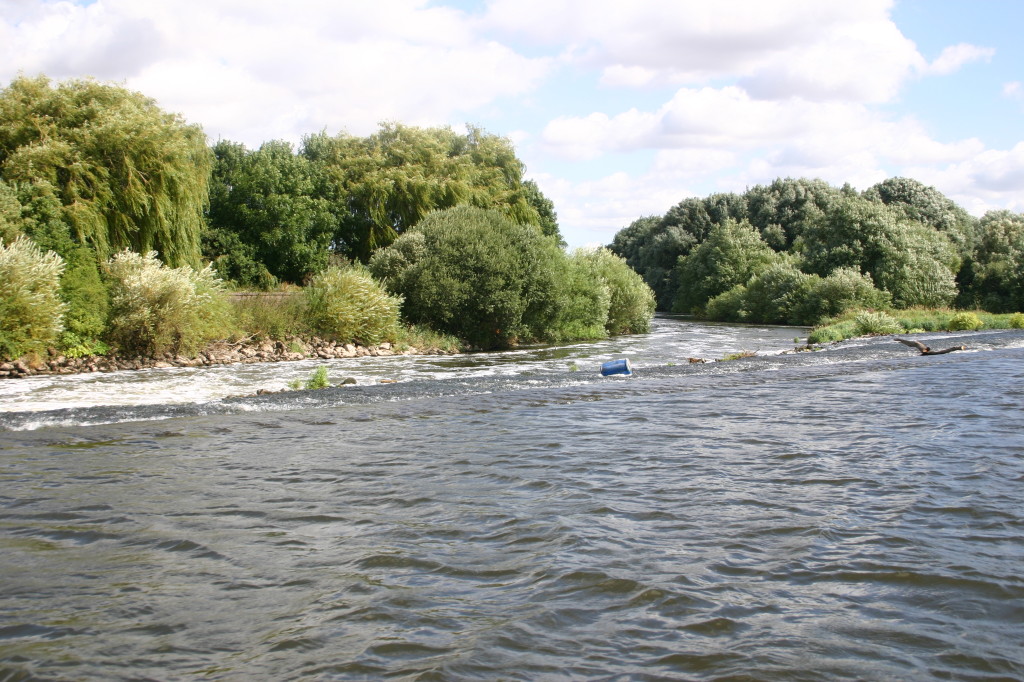 Passing Farndon Ferry the pitiful public mooring was still totally full and it does seem totally bizarre to create a 100 foot public mooring and then let a permanent mooring take up half of it.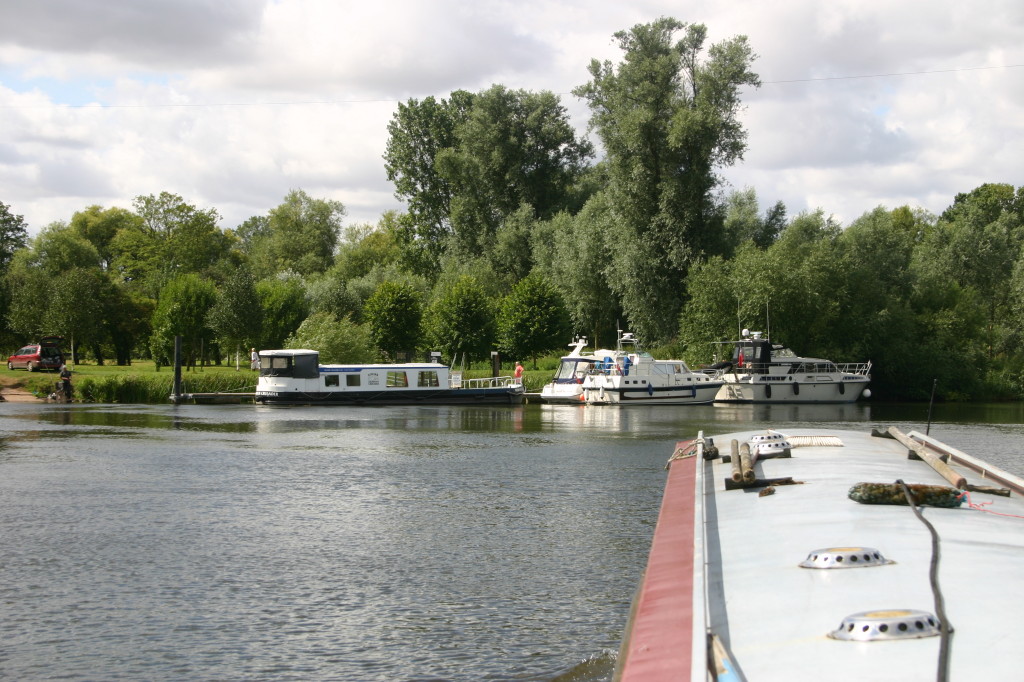 The river wasn't particularly busy – I guess when there are sod all moorings people aren't likely to jump in thei boats and head up, or down, stream and go a visit a riverside pub.
We shared Gunthorpe Lock No 7 with several boats including a small speed boat which had a couple of young kids in it along with people I assume where their parents. When the lock was opened and we all moved out this little boat hurtled off into the distance leaving an 18 inch high wash mark though Gunthorpe Bridge. I saw a couple of other boats hit their wash and was almost dreading coming round a corner and finding that boat upside down…. but luckily we didn't.
At Stoke Bardolph Lock No 6 we caught the lockie unawares as he'd gone off to get himself a mug of tea or coffee thinking he'd got time before we turned up!
We motored on to Holme Lock No 5 where we were the last boat of the day so he kept us at the tail of the lock and really wound the paddles up – it was quite a wild ride.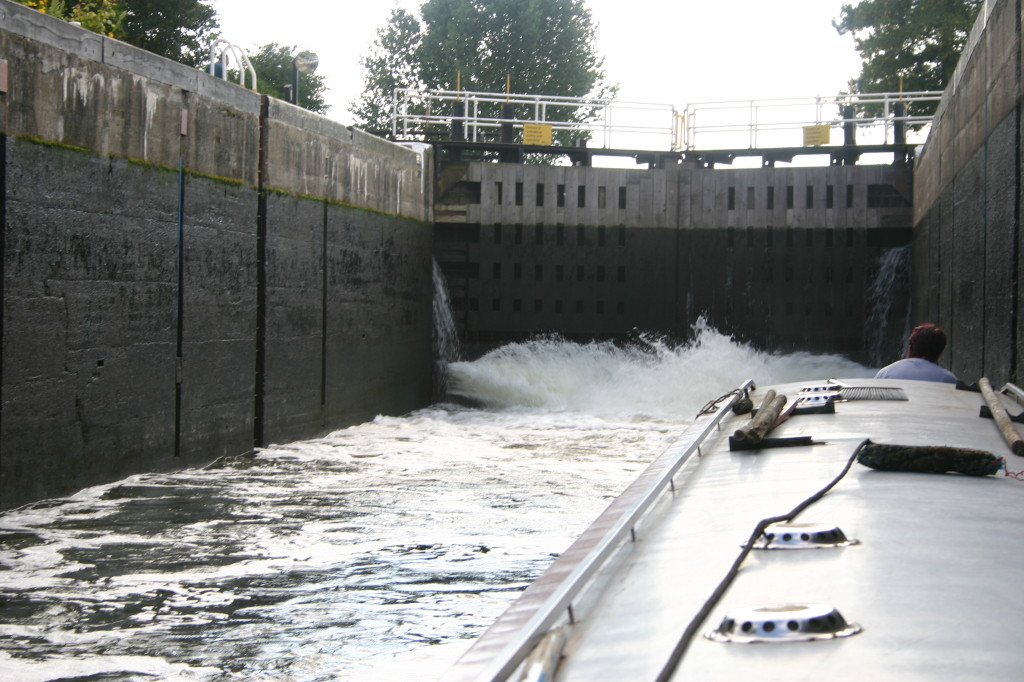 I mentioned the speed boat to him and they had been clocked at over 24mph – which, when you consider the up stream speed is 6mph, is just a tad fast!
We moored above the lock on the extensive visitor moorings and after eating I went for a walk round the National Watersports Centre which runs an amazing white water course using the natural fall of the water past the lock. The sluice gates here are also pretty impressive – each one is over 12 metres wide, and they were installed as part of a large project to control flooding on the river.