From Torksey Visitor Moorings to Cromwell Lock Weir Entrance, a distance of 17 miles, 7 flg and 2 locks.
There's one problem with coming down onto the Fossdyke – and that's getting back off it. We'd been pretty lucky with the tide timings coming down stream but to head back we basically lost half a day – and that was one of the reasons we'd not gone through with the trip down to Boston as by the time we'd have got back to Torksey we'd be looking at a late afternoon tide and as it's between 3 to 5 hours between Torksey Lock and Cromwell Lock No 11 it would have made things very messy
It's quite a way from the far end of the visitor moorings to the lock basin and we knew we had to be there before 12 so after a lazy start we chugged down to the basin. But things were already going wrong – the wind on the river was so strong it was holding the incoming tide back so there wasn't enough water to get over the cill in the lock. So we – us and two other narrowboats, sat and waited and got onto the river about 30 minutes later than planned.
Coming out on to the River Trent from the Fossdyke we met a cabin cruiser turning into the Fossdyke, and a narrow boat motoring like a bat out of hell up the river – you could hear the whine of its engine from its engine room from over 100 feet away and all we can imagine is that they had the revs right up on the red line.
In some ways you can't blame them because frankly the tidal river trent is about as interesting as watching paint dry. There are hardly any land marks and the only real way of gauging progress is by looking out for the Kilometre markers.
There are a few sunken islands and abandoned, or apparently abandoned, gravel wharfs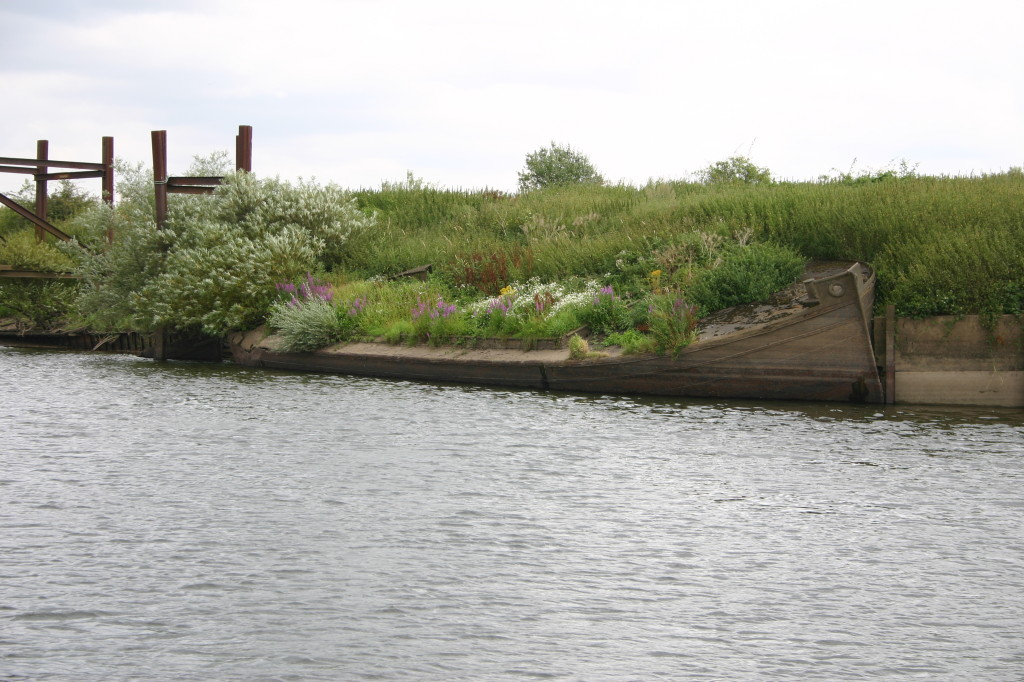 But really there isn't much to see and there is even less to see when the wind picks up and it starts raining.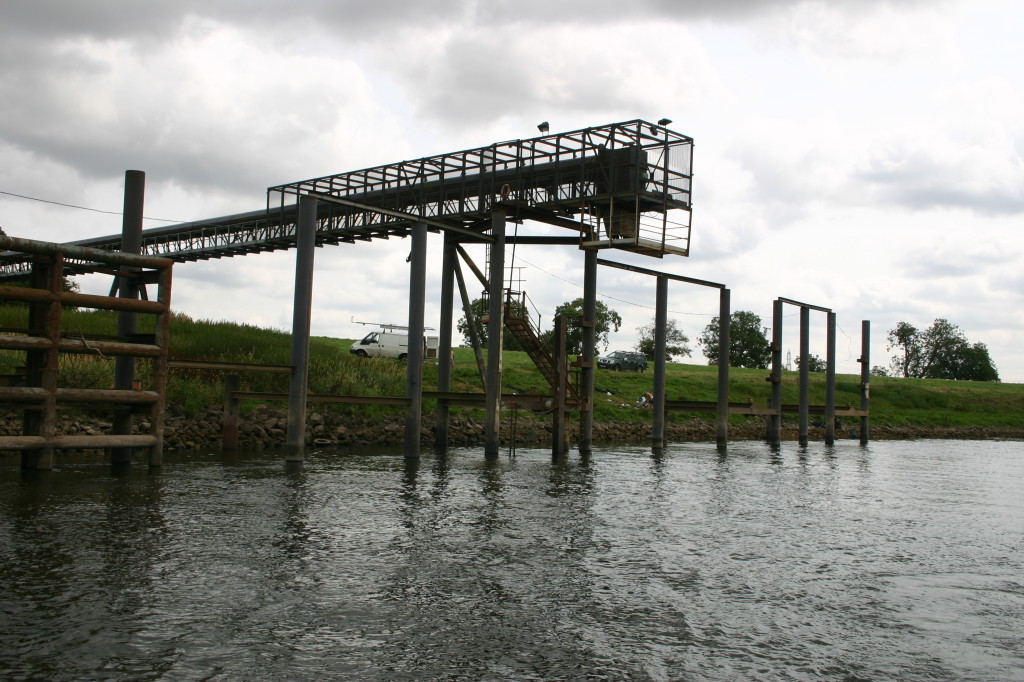 So when Cromwell Lock No 11 finally came into view it was with great relief and it looked like it was going to be an easy end to the day. However there aren't a lot of moorings at Cromwell and a large apparently unlicensed cabin cruiser didn't want us mooring in from of him because "he had a friend coming down and he'd reserved the space for him". So we backed up and stuck ourselves off the back of the 72 hour moorings and hoped we'd be OK.