From Tom's Moorings to Shushions Bridge No 21, a distance of 17 miles, 4½ flg and 5 locks.
We had a bit of a lie in because we were just out for a leisurely weekend. Over night the all singing and dancing Smart Meter system had decided to turn itself off… we've no idea when or why it happened – we certainly didn't get a disconnect email so it looks like it was just a glitch..
We headed south and made pretty good time through the locks as there was a boat coming north at just about every lock. The crew at the top lock closed the gates despite me waving at them and blasting the horn several times. They did eventually open one of them but the woman on the bank told me that one of the gates wouldn't stay open (which isn't the case).
There was a boat watering above the top lock so we left the gate open and headed off into the cutting. The Notice at Tyrley Farm Bridge No 59 always amuses me – I'm not sure what sort of evasive action you can take in a canal boat if rocks start falling.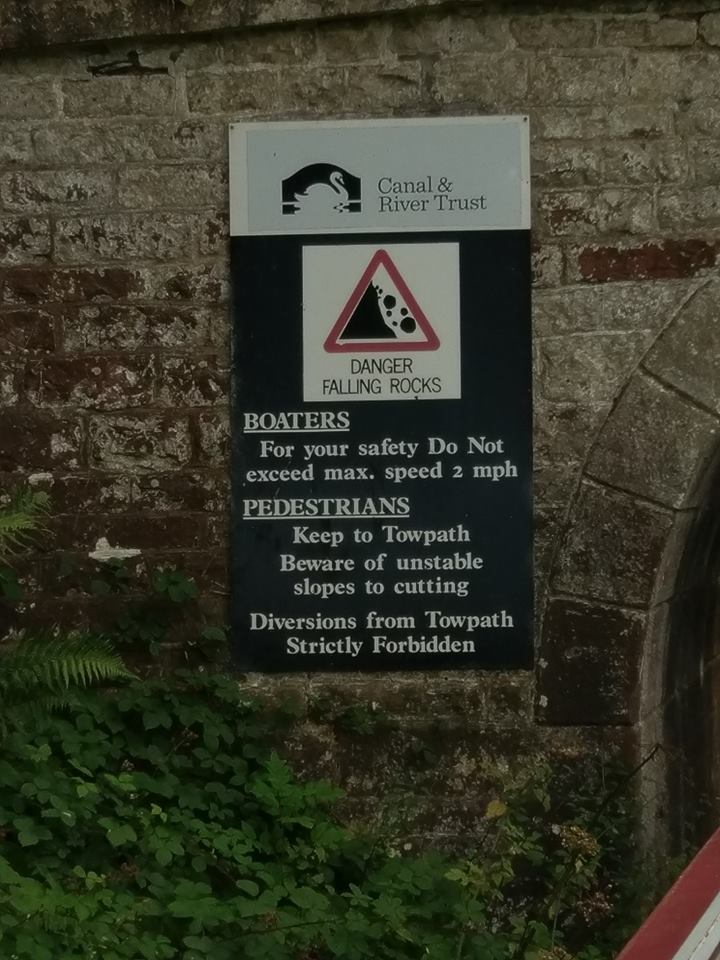 The cutting itself looks quite stable and the major works C&RT did a couple of winters ago seem to be holding firm, but on the approach to it a tree had come down and had pulled quite a bit of rock with it.
We made quite good progress through the cutting and things were going quite well until we reached Goldstone Wharf where we got stuck behind a couple of slow boats.. and when I say slow I mean SLOW.  I think they dropped right to tick over well before any bridge and then seemed incapable of actually speeding up after going through them.  One person on a moored boat even asked if there had been a delay – seeing so many boats in a queue like we were.
We gave up at Shebdon Visitor Moorings (The Wharf Inn) and stopped for lunch, hoping that it would allow the slow boats to actually get a decent way ahead.  There were two other boats moored on the 48 hour moorings, one at each end, and one had a very annoying notice: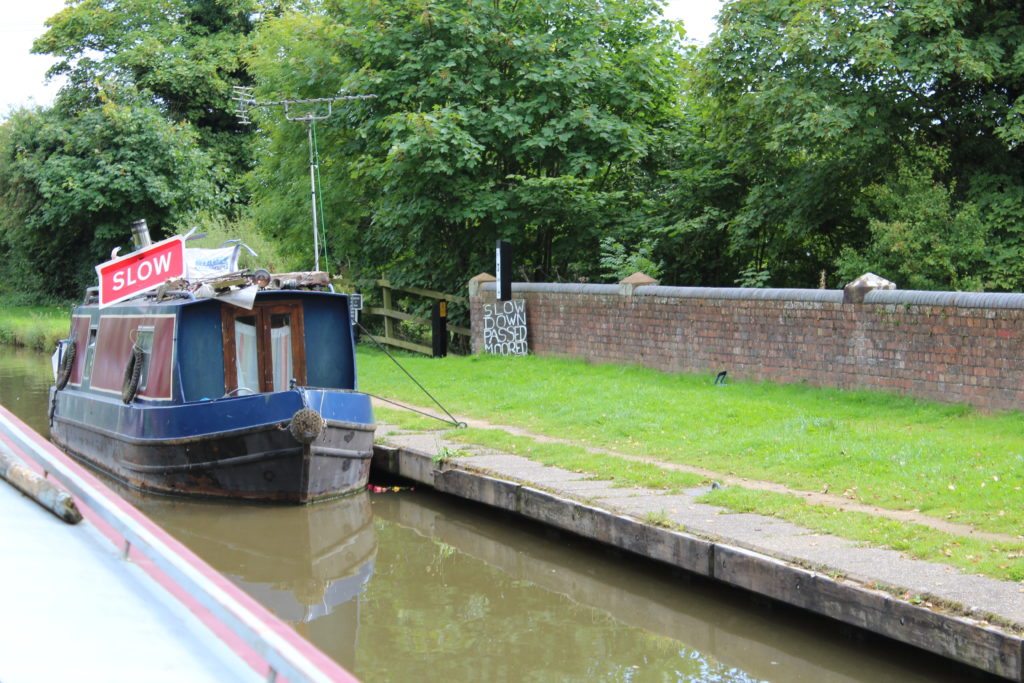 After lunch we cast off and made reasonable time to Norbury Junction where we topped up the fuel tank before continuing.
As we were moving away from Norbury a boat pulled out in front of us and proceeded to dawdle down the canal to Gnosall where luckily they pulled over on to the Gnosall Visitor Moorings. In fact everyone seemed to be stopping and we did consider it ourselves but decided to take advantage of the weather and the fact that everyone else had stopped and so we pushed on for a little longer before stopping for the night.