From Tatenhill Lock Narrows to Cranfleet Railway Bridge No 2, a distance of 21 miles, 3½ flg and 12 locks.
Having basically"gained" a day compared to the time we came back from Nottingham – in that we stopped on the third night further away from Market Drayton than it took us for days going the other way – we decided that we could probably do it again.
It was a bright sunny day at 6am, but it wasn't by the time we rolled out of bed and got under way. We'd stopped just before the lock and luckily someone was just coming up it when we arrived so we were able to sail straight in.
There isn't a lot to see and even when you arrive at Branston Lock No 8 you are still very much in the countryside and although Branston is supposed to be the place the Pickle was first made there seems to be no interest in publicising it – but then again I guess a Pickle Museum or the Museum of Pickling isn't really going to draw in the visitors.
A museum of Brewing, or more specifically "The Bass Museum" is just what Burton-upon-Trent has and although the big Bass sign on the brewery has gone the other real brewer in the town, Marston, Thompson & Evershed make sure that you know just who is brewing what by having their Own Bridge over the canal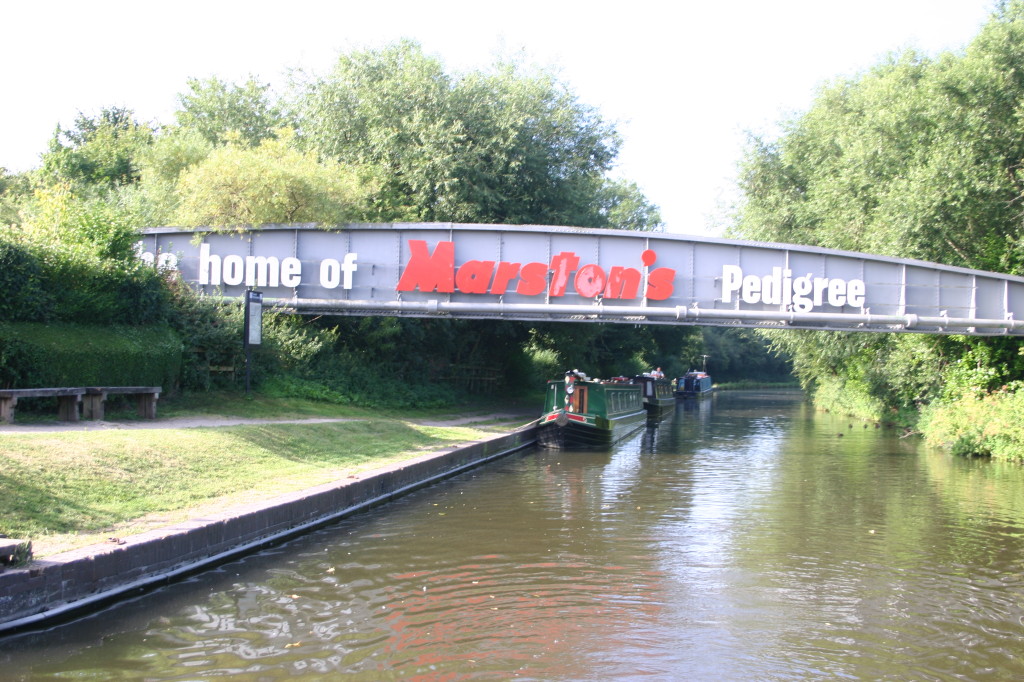 Although viewed from the other side the location of the Pump out sign isn't probably the best placement around (unless a rival paid for it of course)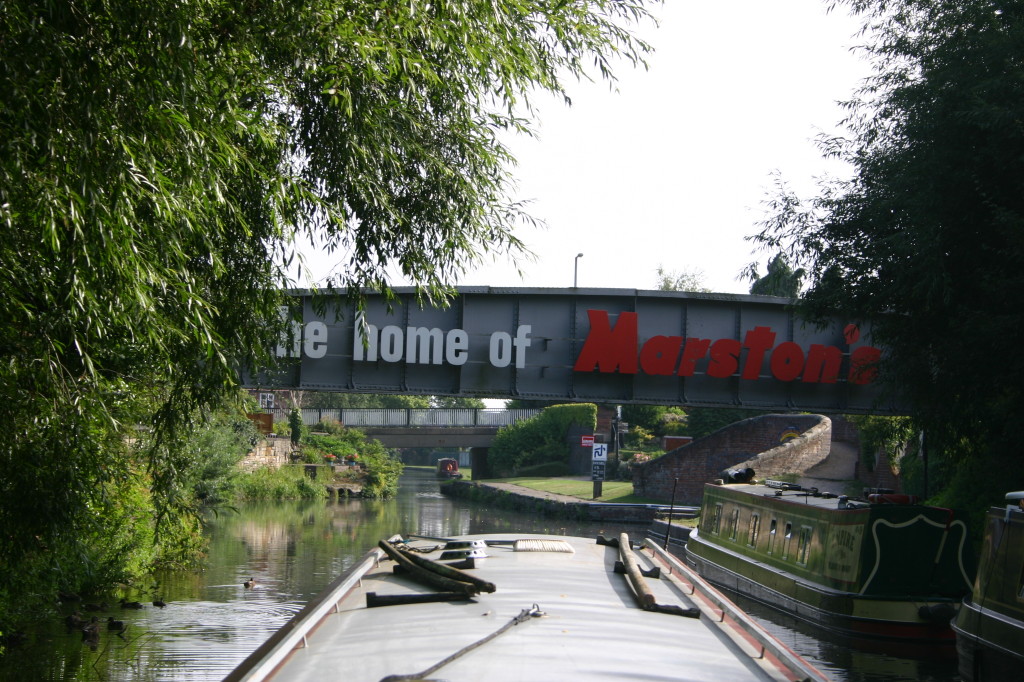 Dallow Lane Lock No 7 used to be a pretty grim affair and had anti-vandal locks if memory serves correctly. Now it's all been tidied up and there seems to be some very good visitor moorings on the offside by Shobnall Fields Bridge No 32B.
Dallow Lane is the last of the narrow locks but the canal doesn't really change much in character at all and Horninglow Basin could be almost anywhere on the narrow canal system.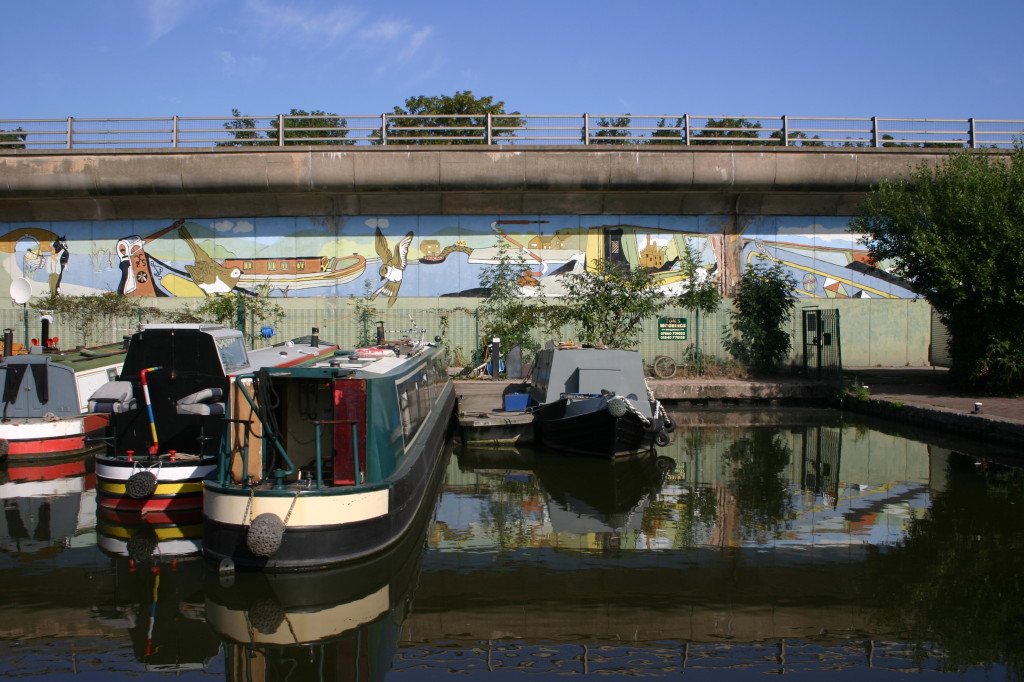 By now the A38 which we'd shaken off last night just after Barton Turns returns like a rather over enthusiastic puppy who just won't leave you alone and it takes several more miles before you finally manage to get rid of it for good.
Horninglow basin marks the boundary between two part of the Trent and Mersey canal but you'd be pushed see any obvious signs. You really have to wait until you get to River Dove Aqueduct No 23 before you really realise that the canal is officially wide, and doesn't just have rather wide narrow bridges, and if you'd not realised it at that point then the rather large Stenson Lock No 6 puts any doubts totally to rest.
We had to wait for a bit at the lock as there was dredging going on above the lock, and the stuff they were dragging out was very dark and very very smelly. We shared the lock with a hire boat with a fairly inexperienced crew on board but it all went quite well even if I did have to climb down over 10 foot of mud encrusted ladder to get onto the boat as there wasn't any real chance of getting in on the landing stage.
Years ago Nick and I went on a wrg camp where we were trying to make it clear that the Derby and Sandiacre Canal could be restored and that building a bypass over it with no bridge was a foolish idea. However bypasses are bypasses and they have to be built (even if the plans were locked away in a disused filing cabinet in a basement…) and so Swarkestone Junction still goes nowhere, but we can but hope that someday they'll sort something out.
Ever since I started boating Nicholsons has always had a bit of text saying that you'll hear people near Weston Cliffe Bridge No 10 talking Russian because there is a Ukrainian settlement near by. This factoid is missing from the current version and I've always wondered if the settlement created after World War II had faded away. However it apparently hasn't because according to notices on the bridge visitors are welcome at the Ukrainian Community Centre between 10am and 4pm daily.
Shardlow has this big canal "image" but I've always found it a bit nondescript and having visited it by boat and by foot – I walked to it from Long Eaton once – it's not one of those places I'd rave about. The New Inn though apparently has 7 Real Ales on tap but, as is the norm for Shardlow, all the moorings were full we had to refuse their invitation.
Derwent Mouth lost its foot bridge a few years ago meaning that the aforementioned walk wasn't possible any more but now there's a big new foot bridge a few hundred yards up the River Trent from the junction so now you can walk from Sawley Bridge into Shardlow once more.
Sawley Locks No 2 can now be operated by boaters and its a pretty clever system because you can't open the bottom paddles if the top paddles are still open – however it would be better if it wasn't possible for other boaters to take their keys out having left the top paddles open. Still it was quite a bit of fun and Kathy seemed to enjoy herself pushing all those buttons.
Just up the weir stream below the locks is a landing stage with water points, refuse disposal, and more importantly free showers. So after topping up the water, disposing of the rubbish and washing several days of factor 39 sunscreen off we did the last little bit of the run of the day down to Trent Junction and our mooring for the night just in the Cranfleet cut